Why don't you hang around with your friends from the University of Tsukuba after a long time and talk about the old days?
The catchphrase for this event is "Why don't you have a drink with the President soon?" Graduates are requested to check the President's schedule on this page and invite at least 5 friends who are alumni of the University of Tsukuba to apply.
(If there are less than 4 participants, we can arrange a time to conduct a joint session with other groups.)
There is no other university that offers the chance for mutual communication with the university president. No other university does this. You can talk about the old days, report on what's going on, or ask the president a quick question. Feel free to register for this opportunity as if you were having a drink with friends!
This year's event will be held online due to the spread of the new coronavirus infection, and we hope that this event will be a chance for you to get together with your old friends.
This event is also to be held beyond April. The schedule will be continually updated so check the application form.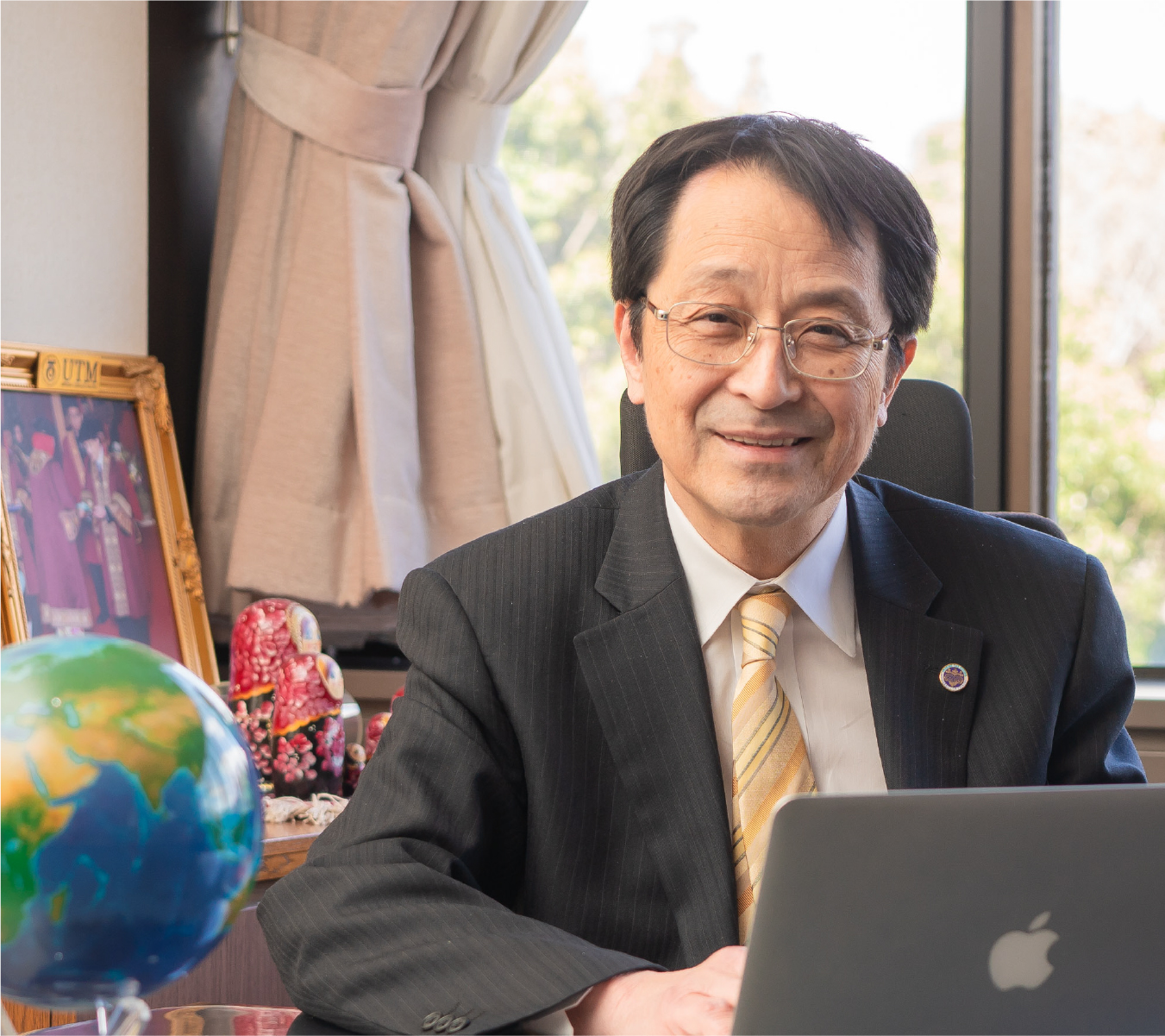 Profile of the President
Birthplace

Born in Ichinomiya, Aichi Prefecture, lived in Fukui during his childhood, in Urawa, Saitama Prefecture from junior high school, and in Tokyo from university days
Dream of the future

Occupation: I want to change education in Japan.
Hobby: Visiting all the FIFA World Cup in my lifetime, enjoying the cities of each country.
Hobbies and special skills

I play and watch football.
Favorite or least favorite food

Everything, especially the dumplings.
Nothing I don't like, but I'm allergic to monkfish liver.
Favorite movie

"Graduation", how many times did I see it when I was young? Katharine Ross was so pretty.
My recent boom

Ever since I lived alone in New York, I like cooking.
Favorite motto

Calculated recklessness (is there such a thing?)
Memories of my school days

Going up the whole length of Kurobe River, Kamino corridor was hard.
Favorite part of Tsukuba City

A town with a sense of calm Satoyama, a unique ecosystem wherein man and nature live in balance
In a few words, what are the characteristics of the University of Tsukuba?

Low barriers in many ways.
What I value as President

Fairness and impartiality (naturally), people

最高っす
学長のオープンなお人柄と、様々なことに対する挑戦心、筑波大学を良くしたいという思いがよく伝わり、嬉しく思いました。また他…
学長と話せるなんて、夢のよう!すばらしいひとときでした、30分もちょうどいい長さです!これからも続けてください。ありがと…